Women Fashion Sneakers | Most Comfortable Fashion Sneakers
Features
Applicable Place

Hard Court
Kindest and Important Notice:
Before you make the order, you should be careful to measure your feet length (from heel to toe) and then you should pay more attention to our size table. You can find a suitable size for you in our size table. Finally, you decide what size you buy.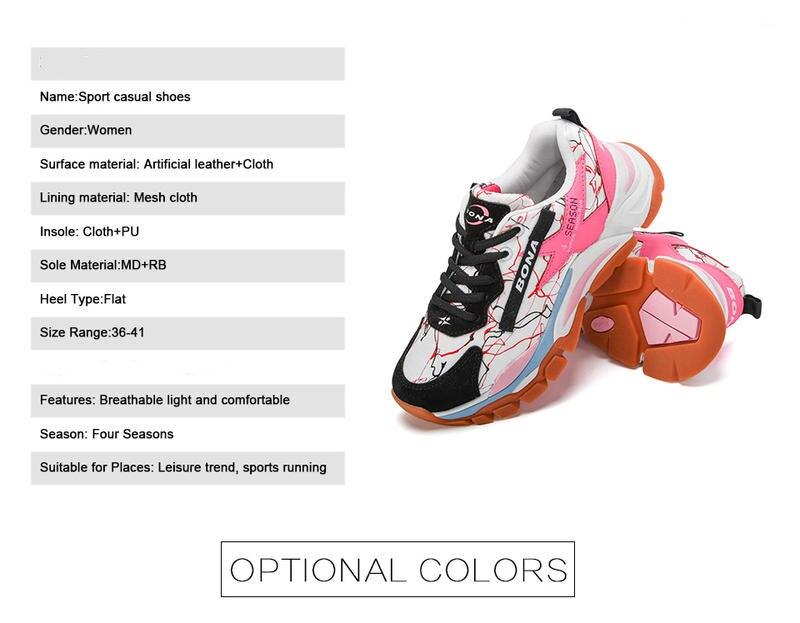 Elevate your fashion game with Women Fashion Sneakers that redefine footwear style and comfort. These sneakers seamlessly blend trendy design with unbeatable comfort, making them the ultimate choice for those who want to step out in style while enjoying the utmost comfort.
Chic Appeal of Women Fashion Sneakers
Women Fashion Sneakers add a touch of sophistication to your everyday look. The fashionable design brings an extra layer of style and flair, making these sneakers perfect for various occasions. It's about embracing fashion without compromising on comfort.
Unmatched Comfort for Every Step
Comfort is key, and Most Comfortable Fashion Sneakers prioritize it. The cushioned insoles and supportive features ensure a comfortable walking experience throughout the day. Whether you're running errands or meeting friends, these sneakers provide both style and unbeatable comfort.
Sleek Style for Every Occasion
The sleek design of these sneakers adds a versatile element to your wardrobe. Whether you're pairing them with casual outfits or dressing up your athleisure wear, these sneakers effortlessly enhance your overall style. It's a combination of fashion and comfort that guarantees these sneakers become your go-to choice.
Selecting Your Perfect Pair
When choosing Women Fashion Sneakers:
Design Aesthetics: Opt for a design that resonates with your personal style – from minimalist to vibrant patterns.
Occasion: Consider where you plan to wear them – for everyday outings, casual hangouts, or whenever you want to make a style statement.
Color Choices: Choose shades that complement your wardrobe, whether you prefer classic neutrals or bold hues.
Style and Comfort Unite
Women Fashion Sneakers offer the perfect fusion of style and comfort. Whether you're out and about, exploring the city, or simply seeking fashionable footwear, these sneakers seamlessly merge both trendy design and all-day comfort.