Yoga Outfit For Ladies | Best Seamless Yoga Set
Features
Pattern Type: Print
Sleeve Length(cm): Sleeveless
Feature: Breathable, Quick Dry
Material: Nylon
Sport Type: Yoga
Function: Moisture absorption, sweat-wicking, quick drying and ventilation
Texture of material: Nylon
Size: S/M/L/XL
Top style: Sleeveless
Outdoor sports: Yoga Fitness
Pants length: Trousers
Tips:
Our size is generally Asian size, which will be a little smaller than European size. It is recommended to check the data and then choose the size. If you are not sure, you can consult customer service, thank you
 These fabrics are generally not recommended to be washed in the machine and exposed to the sun, nor are they recommended to be washed with water above 40 degrees.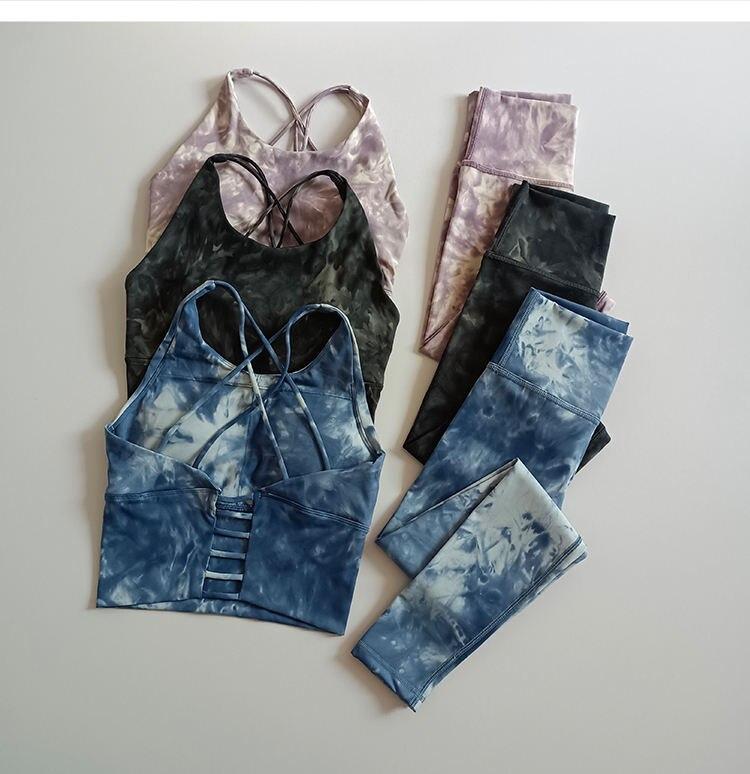 Yoga is not just a physical practice; it's a journey of self-discovery, inner peace, and holistic well-being. To embark on this journey, your choice of yoga outfit matters more than you might think.
Yoga Outfit For Ladies can make a world of difference in your practice. Let's delve into why this yoga ensemble is the go-to choice for women seeking the perfect balance of comfort, flexibility, and style.
Seamless Comfort and Flexibility:
The best seamless yoga set is designed with your comfort in mind. Seamless construction eliminates irritating seams that can chafe or dig into your skin during yoga poses. The four-way stretch material provides unmatched flexibility, allowing you to move with ease in any direction.
Moisture-Wicking Breathability:
During a yoga session, you're bound to break a sweat. The moisture-wicking properties of this yoga set keep you dry and comfortable, even in the hottest yoga classes. Breathable fabrics allow air circulation, preventing discomfort and helping you stay focused on your practice.
Stay-Put Performance:
Yoga involves various poses, stretches, and movements. The best seamless yoga set stays put, providing a secure fit, so you won't have to constantly adjust your clothing. This allows you to concentrate on your practice without distractions.
Stylish Simplicity:
Yoga is about finding inner peace, and a cluttered or distracting outfit can hinder that process. The seamless yoga set offers stylish simplicity, allowing you to focus on your practice and meditation. Solid colors and clean lines create a serene atmosphere that complements the yoga experience.
Versatile Activewear:
While this Yoga Outfit For Ladies is ideal for your practice, it's also versatile activewear. You can wear it to the gym, for a run, or during other fitness activities. The seamless design ensures that it fits seamlessly into various aspects of your active lifestyle.
Body Positivity and Inclusivity:
Yoga Outfit For Ladies brands promote body positivity and inclusivity. They offer a wide range of sizes to cater to all body types. When you find yoga clothing that fits and flatters your unique shape, you'll feel more confident and positive about your practice.
Durable and Long-Lasting:
Quality matters in activewear. The best brands ensure their products are durable and built to withstand the rigors of frequent workouts. Your seamless yoga set will stay in top shape, providing long-lasting value.