Women's Mesh Sneakers | Women's Crystal Sneakers
Features
Fit

Fits true to size, take your normal size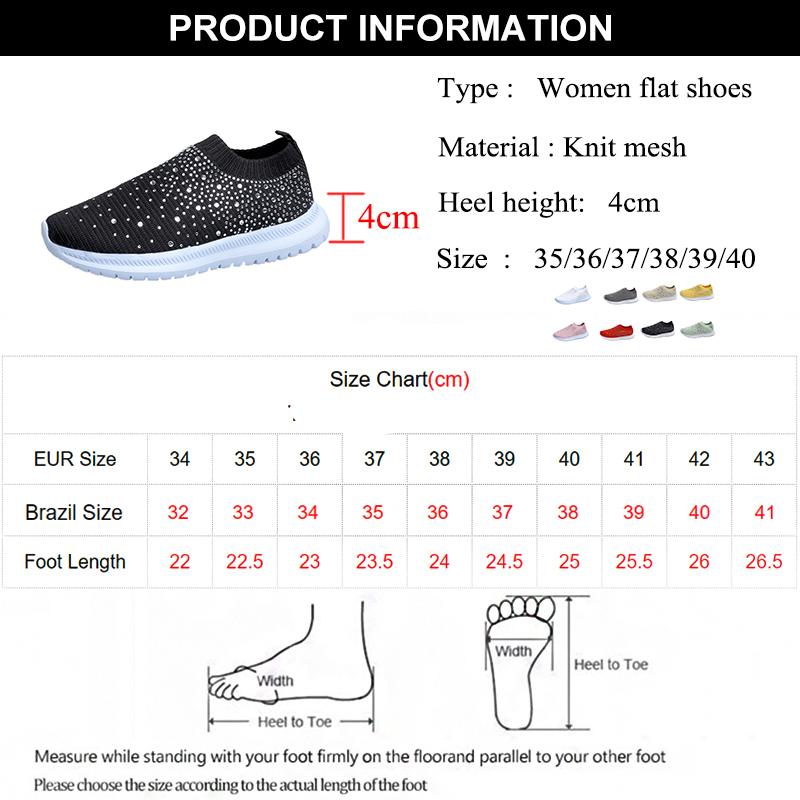 Step into the world of style and comfort with Women's Mesh Sneakers, a perfect blend of breathability and elegance. These sneakers seamlessly merge the lightweight charm of mesh with the exquisite allure of crystal embellishments, making them a must-have choice for fashion-forward individuals.
Chic Appeal of Women's Mesh Sneakers
Women's Mesh Sneakers offer a modern twist to your footwear collection. The mesh design not only adds a touch of contemporary style but also ensures optimal breathability for your feet. It's about embracing fashion without compromising on comfort.
Sparkling Sophistication with Women's Crystal Sneakers
Women's Crystal Sneakers introduce an element of luxury to your look. The crystal embellishments add a dash of sparkle and sophistication, making these sneakers perfect for various occasions. It's about combining glamour with everyday comfort.
Comfortable Allure for Every Step
Comfort is paramount, and Women's Mesh and Crystal Sneakers prioritize it. The cushioned insoles and supportive features ensure a comfortable walking experience, while the mesh provides a breathable sensation. Whether you're strolling through the city or attending casual gatherings, these sneakers provide both style and comfort.
Selecting Your Perfect Pair
When choosing Women's Mesh and Crystal Sneakers:
Mesh Texture: Opt for a mesh design that resonates with your style – from delicate to bold patterns.
Crystal Embellishments: Choose sneakers with crystal placements that suit your preference – from minimalistic to dazzling arrangements.
Color Choices: Select hues that enhance the mesh and crystal elements, whether you prefer neutrals or vibrant shades.
Where Style Meets Comfort and Glamour
Women's Mesh Sneakers and Crystal Sneakers offer the perfect blend of style, comfort, and sophistication. Whether you're walking around town, enjoying social gatherings, or seeking an elevated everyday look, these sneakers seamlessly merge contemporary design and sparkling allure.